We believe the best way to flip a food desert is by focusing on waste prevention
Hear what our neighbors are saying about our model's impact and transformative qualities
"We want to let you know how grateful we are for [you] performing a service to the community which allows families to receive a healthy and nutritious meal each week...we are living in hard and difficult times, but we know that there are good people in the world who truly care about others."
"...the food has been excellent...but more importantly, they have prayed for me...they have hugged me and loved me [throughout] the whole ordeal that I have been through...I'm just very thankful and blessed for the group that is doing this."
"…it's been a blessing to get [the food]...I pray for all of you guys every chance I get because you [have] been a blessing to us..."
"I enjoyed myself & learned so much…I'm not going back to the old way I use to cook…God bless you all…you're doing a great job!"
"…the food you give us is always right on time! It's been a blessing to our residents…and it tastes so good!"
"…it's more than one way to hit the lottery! I was wondering what we were going to do for dinner today then you showed up!"
Be In Attendance At Our Upcoming Annual Hungernomics™ Gala
NEVER DOUBT OUR COLLECTIVE POWER
We recently revealed our moonshot idea which is to
flip every food insecure community nationwide in the next 25 years
. But how? By establishing beautiful, properly managed, virtual, zero-waste, sustainability hubs in the heart of overlooked and underserved neighborhoods then leveraging those hubs to inspire then empower residents to become a part of the change and/or provision they want to see. We are fully aware that many people believe
only a group of focused and disciplined individuals would even be crazy enough to tackle such a massive undertaking
. We believe they are absolutely correct!
Experience behind-the-scenes footage of our annual
Hungernomics™ Gala
then decide to come join us in the future.
HIGHLIGHT VIDEO
|
GALLERY
.
Learn more about the number one material being sent to landfills in the United States
In the United States, there is more food in landfills than plastics or paper. While food waste happens throughout the supply chain (from the farm to the table), a whopping 83 percent occurs at restaurants and homes.
Watch how we are combating the problem while bringing nutritional meals to food deserts
The Hungernomics™ Community is a passionate and determined group of continuous givers on a mission to flip every food desert nationwide. People like you, from all over the world, contributing a designated portion of their income and/or their time to prove how unstoppable we are when we work together. See how we are making a tangible impact in food deserts via our weekly, complimentary neighborhood café days.
Get an inside scoop on the road we've traveled to begin wiping food deserts off the map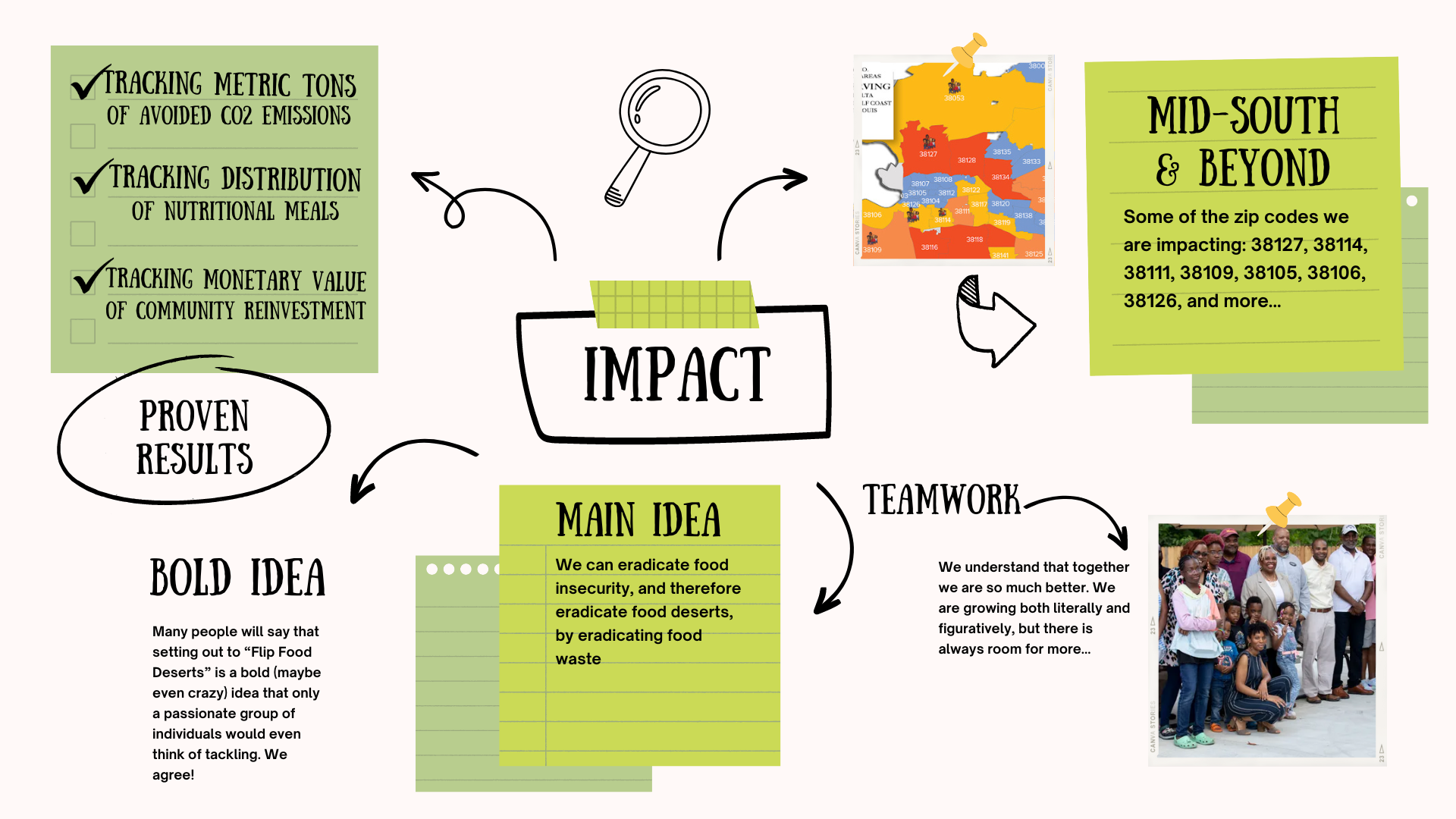 When we started this journey our primary service area was literally our street in our neighborhood. Fast forward a few years, our primary service area became the Frayser & historical Orange Mound communities in Memphis, Tennessee.  

Now, although our primary service area is still Shelby County, Tennessee, our reach is continuously growing and has also begun to impact the Mississippi – Delta, Missouri, and beyond! And our growth is fueled by generous individuals like you!
See a few "before" & "after" transformation snapshots of food deserts that our model has been implemented in
watch a compilation of curated informational video reels that outline our vision & mission
Acquire First Hand Training On Replicating Our Sustainability Hub Model
THE KNOWLEDGE IS TRANSFERABLE
Hungernomics™
is the study of impoverished communities plagued by scarcity, the associated negative health conditions, and the radical solutions to the problems using disruptive technology. We realize that having access to knowledge is good but gaining access to those that have wisdom and understanding is priceless. Participate in monthly live, real-time, interactive web-based and/or in-person training sessions where we give you more in-depth, up-close-and-personal visibility into the current experiences and decision-making process that lends to our continuous success. With
over 80 years of combined experience
in government contracts, project management, supply chain management, resource management, strategic planning, community development, community engagement, and training, we are confident in our ability to guide you and your team in becoming agents of change in your area.
GET BOOK ($18.99)
|
GAIN ACCESS ($50/MONTH)
.
Become A Future Leader And Environmental Change Influencer In Our Global Community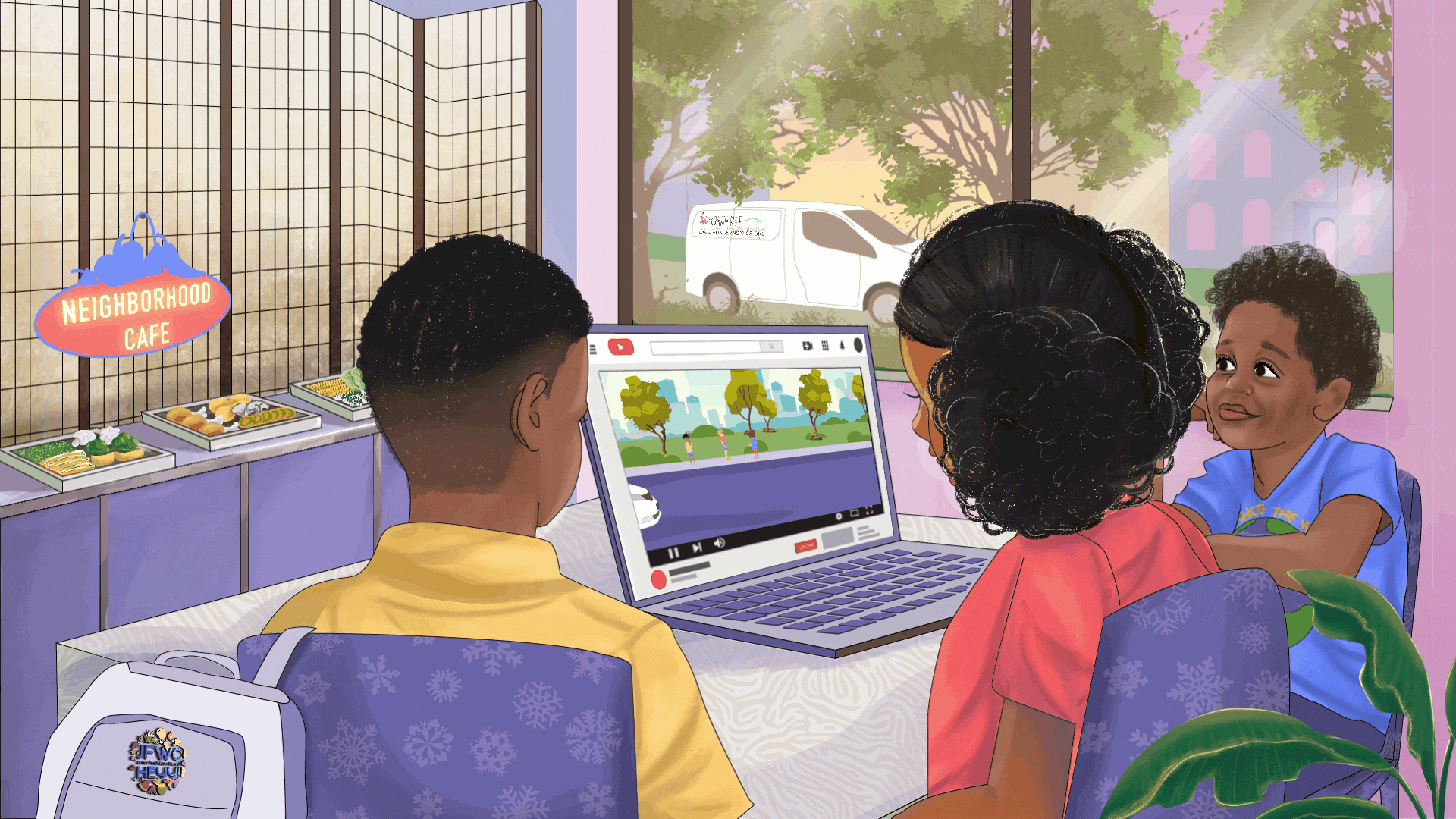 THE CHILDREN ARE THE FUTURE
We realize that in order to have sustainable success in our global fight, the youth must be educated, inspired, then empowered to take the lead. The 'JFWC HEYY!' initiative is designed to creatively engage and challenge youth to be the change they want to see in their homes, schools, and communities through practical, proven, hands-on activities that reinforce basic principles such as: Caring about their future, their planet, and others. JOIN TODAY.
Join our community of continuous donors bringing nutritional meals to food deserts
Launch A Campaign To Help Us Raise Money For Combatting Food Waste and Food Insecurity
This incredible community is composed of generous, passionate, and determined people—like you—from all around the world. They're world changers and history makers. And you're going to fit right in. Our campaigners have done some pretty amazing things to raise money for combating food waste and food insecurity. And they're thinking of new things to do every day. What will you do? It only takes a minute to set up a campaign: Decide what to do. Provide a short description. Pick a photo. Set a goal. And just like that, you'll be ready to start raising money to help eradicate food waste, food insecurity, and food deserts while helping people and the environment along the way.
Help Us Remove Then Prevent Other Forms Of Waste In These Food Deserts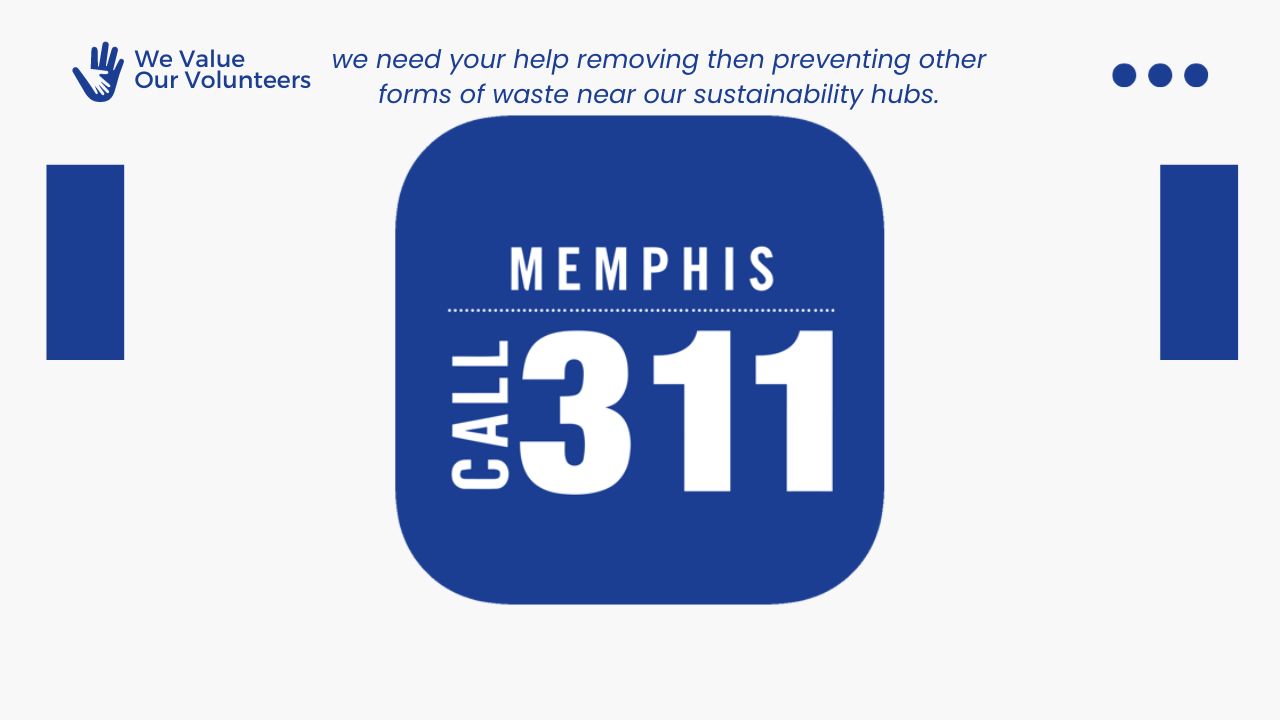 THERE ARE OTHER WAYS TO GET INVOLVED
We realize that everyone may not be able to make a financial contribution to our initiative! However, everyone can get involved and literally "lend a hand (or finger)" to the cause!  Hungernomics™ also aims to prevent other forms of waste that are prevalent in food deserts such as curbside trash: tires, furniture, and other forms of unwanted litter. In order to accomplish this, we always encourage citizens, residents, neighbors and/or volunteers to join our 3-1-1 Army. You can join free of charge and report blight (especially near our sustainability hubs) by downloading the Memphis 311 app from the Apple store or Google Play store. This will give you access to a free SeeClickFix account and allow you to report issues anonymously, if you choose to do so. By reporting anonymously, the system will maintain your anonymity and hide your display name and email address from any public reporting process. 
Get the most recent impact updates and reports directly in your inbox
By subscribing to our free email notification list, you'll be one of the first to learn more details about our upcoming community service events. And those that choose to make an optional contribution (at any level) will also gain access to our latest impact stats as well as receive our comprehensive infographic reports that update you on our progress and remind you just how much your participation matters. We hope it makes you smile all month long too.