By OMER YUSUF | THE DAILY MEMPHIAN | November 13, 2020
[
Pictured Above: Frayser Neighborhood Cafe (Redwood Estates).
]
Posted: Nov 13, 2020 / 03:37 PM CST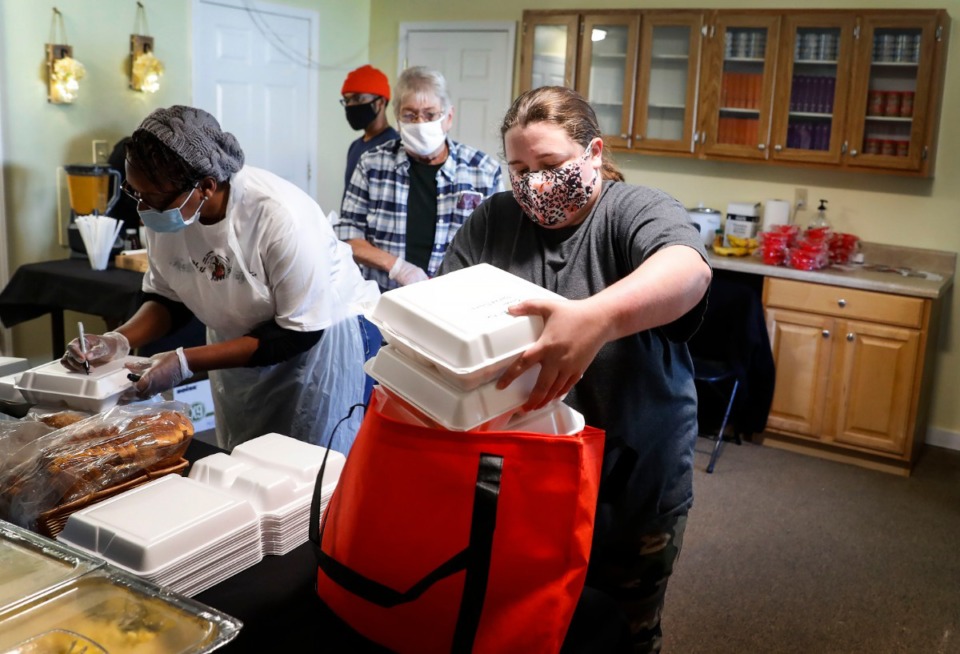 Friday, Nov. 13, 2020 at The Neighborhood Cafe… (Mark Weber/The Daily Memphian).
MEMPHIS, Tenn. (THE DAILY MEMPHIAN) – Each week for the past year, nearly 50 families in Frayser have received free meals including fruits, vegetables and protein as part of a growing initiative to address food insecurity and increase positive health outcomes in their neighborhood.
Oscar Tunstall and his wife are among the families receiving meals from the Healthy Frayser initiative. He has worked in the program since learning about it six months ago.
"If you eat it and do what's right, and bless it when you eat your food, you're going to be OK," said Tunstall, a 72-year-old retiree and Vietnam War veteran. "All you have to do is eat right. It's good, nutritious food."
Healthy Frayser celebrated its first anniversary Friday, Nov. 13…1640 Via Roma Drive at Redwood Estates Mobile Home Park. Each Friday from 4 to 7 p.m., residents from food insecure neighborhoods can pick up a free meal.
"I think it'll bring the community together and help people out that need it right now," said Missy Bowman, Redwood Estates property manager. "Even some people who don't need it right now, but just don't want to cook that night. It's something that helps anybody out."
The initiative is based on using food sustainability hubs to address chronic health issues including hypertension, obesity and diabetes in underserved neighborhoods. A key part of Healthy Frayser is providing access to nutritious foods not on a one-time or two-time basis, but over a longer period of time to build healthy habits.
Austin Avery and his wife Reesie Avery envisioned Healthy Frayser in 2014, though formalizing the plan did not occur until 2019. The two are behind The Original Project Team, a local organization with goals to create "sustainability" hubs in neighborhoods like Frayser.
"We just want to do our part to overcome some of the obstacles to food insecurity. Those being transportation and money," Austin Avery said. "We have some gracious sponsors, partners, restaurants and hospitals that give us actual food. In turn, by giving it inside a neighborhood, we eradicate those barriers … That will help us infuse healthy meals into the diets of those who may not get it otherwise."
After initially partnering with the American Heart Association, The Original Project Team eventually secured funding from The Care Foundation to start Healthy Frayser in 2019.
It opened its first location, the Morningside Sustainability Hub, last November. The site is an aquaponics greenhouse community garden near the intersection of Morningside Drive and Frayser Boulevard about a mile away from the Neighborhood Cafe.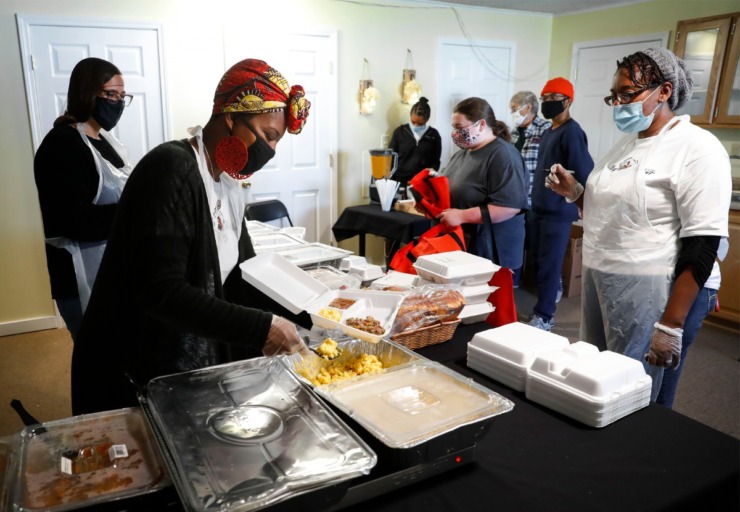 Healthy Frayser volunteers prepare boxed lunches for area residents on Friday, Nov. 13, 2020 at The Neighborhood Cafe. (Mark Weber/The Daily Memphian)
On average, 450 meals are given to families each month…
Frayser was chosen as the site to begin this program because Reesie Avery was born and raised there, her husband said.
To be eligible to receive meals from Healthy Frayser's original location at Morningside Sustainability Hub, residents have to be Christ Community Health Services patients. That's because Christ Community offers health screening to flag patients who are "food insecure." Avery said those screenings are integrated into The Original Project Team's database and patients are then eligible to pick up meals from Healthy Frayser either weekly or biweekly at the community garden.
At the Neighborhood Café, however, someone does not have to be a Christ Community patient. They simply show up on Fridays between 4 to 7 p.m.
Even though it's only been around for a year, Avery is hopeful long-term to expand Healthy Frayser beyond the North Memphis neighborhood.
"We plan to continue to develop it in Frayser and the model we have is replicable, so we plan on expanding into Orange Mound, Whitehaven and all of the areas that are pinpointed as food insecure," he said.
Tunstall was among those present Friday at the grand opening of the Neighborhood.
He's passing along the message about Healthy Frayser to all his friends. "Whether they listen to me or not is up to them," Tunstall said.
Omer Yusuf is a Reporter with The Daily Memphian. He may be contacted at https://dailymemphian.com.
Read the original article
here.